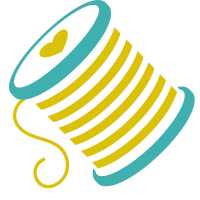 SULKY® a brand of GUNOLD® stands for quality and creativity.
We support you in sewing, embroidering, quilting, whether with the sewing machine, embroidery machine or overlock.
Your passion is our incentive for first-class threads, stabilisers (backings), needles and sewing / embroidery aids.
We love to support you and your hobby with lots of DIY-Projects or in short "Get inspired - be creative".
You benefit from our years of experience - we have been there from the beginning.
Our timeline began in 1927, when multi-head embroidery came to life and the first program-controlled embroidery machine came onto the market. We designed the necessary artisan drawings and produced the corresponding punch cards / embroidery programs. The machine needed these programs to produce the embroidery.
Almost half a century later, we laid the foundation for yet another success story for the SULKY® Brand:
In 1968, the era of our embroidery materials began. First of all, we focussed on the area of commercial embroidery on multi-head machines, later also on the retail sector for home sewing and embroidery.
Starting in 1985, we quickly became the market leader in home sewing and embroidery in the USA with Sulky of America.
At the beginning of the 1990s, sales activities for this sector began in Europe and the company successfully recruited haberdashery distribution partners who sold SULKY products to the haberdashery stores. In many countries, partnerships were created with well-known sewing machine manufacturers.
2005 marks another milestone in our company's history. In Gütermann we found a suitable distribution partner to offer the SULKY products internationally. Since then, the "SULKY" label has been known for first-class threads, nonwovens, stabilizers and auxiliary materials.
In 2017 the license of the SULKY® cooperation ended and with it the distribution of the SULKY brand by Gütermann.
Since then, "Gütermann Sulky" has been renamed to "Gütermann Creativ".
As a result, SULKY® is once again the sole brand of GUNOLD® and continues to represent the product range for the hobby market worldwide.
_____________________________________________________________________________________________________________________________