🌞 Hello Summer 😎
SULKY® RAYON
SULKY® 40 RAYON thread is the preferred thread for "free-motion" machine embroidery, digitized embroidery designs and decorative thread application.
With this limited collection thread set
Hello Summer
you get more for your money 😉
Shop your perfect equipment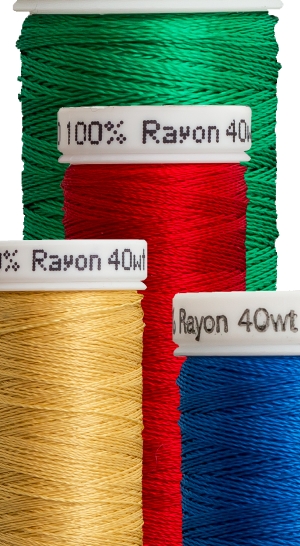 WHO OR WHAT IS SULKY® by GUNOLD?
The GUNOLD company has been in the embroidery business since 1927 and supplies and advises commercial embroiderers with high-quality materials.
The SULKY® by Gunold brand offers hobby sewers and embroiderers high-quality threads, stabilizers and needles for sewing, embroidery, quilting, overlocking and much more.
The SULKY® brand has been a fixture in the handicraft scene for many years and is now represented with its own website.
In addition to high-quality materials, we also offer free instructions, templates and embroidery designs.
Get to know our great creative team and be inspired by their ideas and projects.

Our Principles: Innovation, Quality and Environmental Protection.
We maintain our high quality and
a commitment to environmental protection
through innovative products and production processes

Yes that's right: "innovative products"!
Even for threads, stabilizers and the like there are always new ideas, applications and developments.
Besides the " standard " threads [SULKY® RAYON, SULKY® COTTON, SULKY® POLY DECO], we also offer " glowing " threads [SULKY® GLOWY], reflective thread [SULKY® CRY], an "invisible " transparent thread [SULKY® INVISIBLE], various "sparkling and shimmering" metallic threads [SULKY® METALLIC, SULKY® SLIVER, SULKY® HOLOSHIMMER] and metallic shiny polyester threads [SULKY® POLY SPARKLE, SULKY® POLY FLASH] in our range of products.
It's worth trying these great threads!
Check out our Projects for useful tips and creative ideas: [Projects]

Have you already heard of the self-adhesive stabilizer that can be removed without leaving any residue [SULKY® FILMOPLAST] or stabilizers which disappear due to heat [SULKY® THERMOFILM] or water [SULKY® SOLVY, SULKY® ULTRA SOLVY, SULKY® PAPER SOLVY]?
Dare to test the new possibilities these stabilizers offer you. The use of such a stabilizer can significantly enhance your project.
Go right ahead and test them all!
You are not sure which stabilizer is the right one? You will find valuable tips and tricks as well as all stabilizers for testing in our "SULKY® STARTER KIT, - Stabilizers" [Shop now].
And what about the "standard" threads such as Cotton, Rayon or Poly?
You may ask yourself: What is innovative about products that have existed for decades?
YES, we are also committed to innovation for these products.
Newly developed processes are constantly improving the thread quality. It is also important that new production processes help to use resources in an environmentally friendly way. In this way we can ensure sustainability and also increase quality.

Have fun with our products